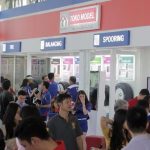 JAKARTA – Car tire manufacturers from Japan in Indonesia PT Bridgestone Tire Indonesia (Bridgestone Indonesia) are optimistic that they will maintain the largest market share  in Indonesia this year. They refer to the target of car sales in the domestic market by the Associati of Indonesian Automotive Industries (GAIKINDO), where sales are projected to reach 1.1 million units in 2019.
Bridgestone Indonesia's President Director Akihito Ishii said that Bridgestone Indonesia, which has been a leading tire company in Indonesia for more than 40 years, will continue to be committed to providing the best products. "With the 2019 car sales projection reaching 1.1 million units, we are optimistic that this year Bridgestone Indonesia can continue to provide the best products and improve quality services for Indonesian consumers," he said in Jakarta, Tuesday 9th April 2019.
Bridgestone provides tire products in almost all segments of four-wheeled or more motorised vehicles. They managed to maintain their market share as the largest, both in the original equipment manufacturer (OEM) and replacement tire markets in commercial and passenger vehicles. For this year Bridgestone is also trusted as an OEM tire for some models, namely All New Toyota Camry, New Toyota Avanza, and New Daihatsu Xenia.
In addition, Mitsuibishi Xpander Ultimate, the highest variant, chose Bridgestone tires. While other variants of Xpander use other tires in accordance with their needs and choices. Agustini (Marketing Department PT Bridgestone Tire Indonesia) explained that each model might have different manufacturing based on the variants offered. He revealed it at a press conference in Jakarta. "This is not our request, but their preference of their own," said  Agustini.
They plan this year will be launching Bridgestone sport type tires. "Later in the third quarter. We will inform you the details later, "Agustini said.
At present, the Bridgestone plant in Bekasi (West Java) produces tires with a production capacity of 14 thousand units per day. The number of employees of this factory reached 1,759 work forces. PT BTI also has a factory in Karawang (West Java) that produces passenger car radial tires for the export and domestic markets with a capacity of 27,500 units per day. The number of employees in this factory reached 1,656 people.
Bridgestone promised that in July 2019 it will participate in one of the largest automotive exhibitions in Indonesia (GAIKINDO Indonesia International Auto Show, GIIAS 2019) at the Bumi Serpong Damai (BSD) ICE Building in South Tangerang (Banten). There, Bridgestone will launch a new product in the premium class sports segment. (*)