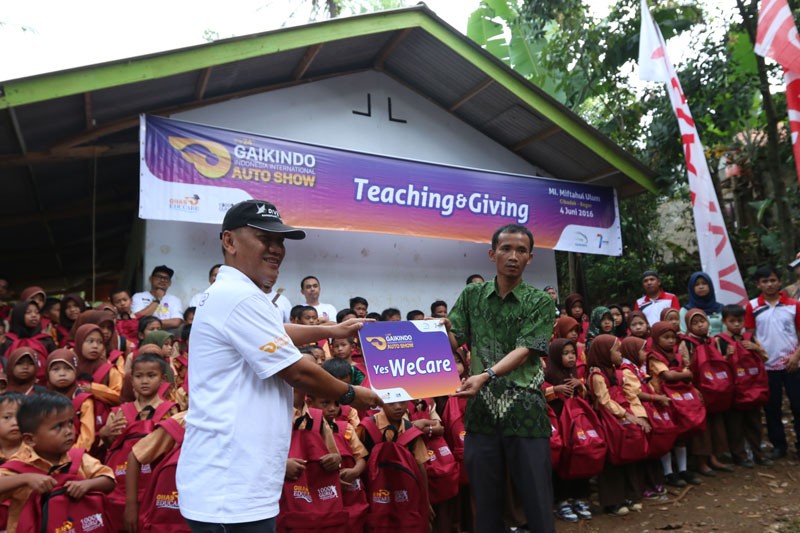 BOGOR– GAIKINDO Indonesia International Auto Show 2016 (GIIAS 2016) continues its commitment to contributing support to the education of the younger generation of Indonesia through a series of social program named "GIIAS Educare". In a last mission, the GIIAS Educare paid a visit to Miftahul Ulum Islamic Primary School. The schools is located at a rural area of Bogor (West Java) which has 138 pupils. GIIAS Educare is a CSR program to provide support for the education of pupils of primary schools.
"Through this social program, we visit the schools that still need support to achieve better educational activities in which students can learn by means of adequate and proper facilities of the school," said Mr Kukuh Kumara, General Secretary of GAIKINDO.
To achieve good learning activities for students, GIIAS Educare prepares a number of tools that can help teaching and learning activities– such as sports equipmentz, stationery, bags, supplies of worship, as well as tables and benches for pupils and teachers. "GIIAS Educare and donations are aimed at providing benefits to the educational activities of students and teachers and to realise their hope to have a school with better facilities," he said.
Mr Andy Wismarsyah, President of Seven Events (the organiser of GIIAS 2016 Series) reveals that the visit was made in collaboration with "1000 Guru" (1.000 Teachers). This is a non-profit community that helps disadvantaged children in rural parts of the country. "Together with the community, we delivered a program 'Teaching and Giving'. We provide not only the teaching of the various elementary school science curriculum, but we also give them an overview of the various professions that they can run in the future, in order to motivate them to have a reference ideals better, "he said. "We also will be bringing children from Mi Miftahul Ulum is to be present and witness the splendor of GIIAS Exhibition 2016," said Mr Andy.
In addition to the 'Teaching & Giving', GIIAS Educare also organised free medical consultations for students and the surrounding community. "We hope the visit of GIIAS Educare and this support is useful for students Mi Miftahul Ulum and the community around the school. Hopefully the students can learn well and are motivated directly derive their ideals even higher," said Mr Andy.
This activity is a closing round of the GIIAS Educare 2016 programmes, but Mr Andy made sure that in the future Educare GIIAS activity will continue  as a series of social care programmes of GIIAS. He expressed gratitude for the support by some APMs of participants of GIIAS 2016. "Daihatsu, Nissan, and Renault which supported transport for a full day," he said.
GIIAS Educare is one of a series of events organised by GAIKINDO in order to welcome GIIAS 2016. The largest automotive exhibition in Southeast Asia will take place on August 11 to 21 in Indonesia Convention Exhibition (ICE) BSD City, Tangerang. By increasing its exhibition area of ​​5,000 square meters into a 96 677 square meters, GIIAS 2016 is participated by 32 brands of vehicles. They consist of 26 passenger vehicle brands such as Audi, BMW, Chevrolet, Datsun, Daihatsu, Dodge, Fiat, Honda, Hyundai, Isuzu, Jaguar, Jeep, Kia, Land Rover, Lexus, Mazda, Mercedes-Benz, Mini, Mitsubishi Motors, Nissan, Renault, Suzuki, Tata Motors, Toyota, VW, Wuling and 6 brands of commercial vehicles consisting of FAW, Hino, Isuzu, Mitsubishi Fuso, Tata Motors, and UD Truck. (*)