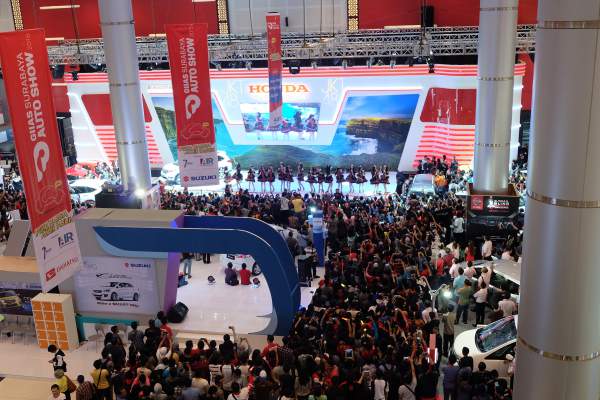 JAKARTA– The Association of Indonesia Automotive Industries (GAIKINDO) deliberately chooses Makassar (South Sulawesi) to initiate a series of the largest automotive exhibition in Southeast Asia GAIKINDO Indonesia International Auto Show (GIIAS) 2016. Held on 18 – 22 May 2016, GIIAS Makassar Auto Show 2016 comes with new concepts and new venue.
Mr Kukuh Kumara, General Secretary of GAIKINDO, said Makassar community's enthusiasm in organising the inaugural GIIAS Makassar Makassar Auto Show last year became positive note for GAIKINDO. Makassar is the largest city in eastern Indonesia with the potential to continue to grow so that transportation becomes an important aspect.
At the moment South Sulawesi has become one of the 10 biggest national automotive market. It makes Makassar have significant potential for advancing the automotive industry in Indonesia. "This time we give privilege to the people of Makassar to enjoy a wide range of the latest products and the flagship of the best automotive brands in the industry early," said Mr Kukuh Kumara.
GIIAS Makassar Auto Show 2016 will take place at the new venue, Four Points by Sheraton in Jl Baru Porcupine No. 130 Makassar. This area is located in the center of the city of Makassar and traverses the main axis of the city. Adjacent to some of the largest shopping centers as well as the administrative center of the city of Makassar to Four Points is very strategic and easy to reach the public, especially automotive enthusiasts who already look forward to welcoming GIIAS Makassar Auto Show in 2016.
With a total exhibition area of 6,350 square meters and a parking area of ​​40,000 square meters which can accommodate up to 1,500 cars, Four Points is also an ideal location for GIIAS Makassar Auto Show 2016. All exhibition areas on the ground floor will be used and divided into four areas namely Golden Lily ballroom, ballroom peaches, Pre function, as well as Outdoor area of ​​Four Points.
16 brand agents (APM) express their keen enthusiasm to participate in the exhibition. They include 13 passenger cars (Chevrolet, Chrysler, Daihatsu, Datsun, Honda, Jeep, Kia, Mercedes-Benz, Mitsubishi Motors, Nissan, Renault, Suzuki and Toyota). While three participants of commercial cars include UD Trucks, Mitsubishi Fuso and Tata Motors.
In addition, visitors can also see a variety of excellent products from the premium brands of motor bike like Yamaha, and accessories ranging from audio, window film, car wash, leather upholstery, and so forth. GIIAS Makassar Auto Show also uses the outdoor area of ​​2,000 square meters of Four Points as the area's flagship event, such as community gatherings, entertainment, and most awaited visitor program, test drive.
After opening the automotive exhibition series in Makassar, GAIKINDO will continue the series of activities GIIAS 2016 by presenting the largest automotive exhibition in Southeast Asia on August 11 to 21 in Indonesia Convention Exhibition (ICE) BSD City (Tangerang) and in Surabaya on 28 September – 2 October 2016. (*)
GIIAS Makassar
18 – May 22, 2016
Four Points by Sheraton, Makassar.
GIIAS 2016 (BSD City)
11 – 21 August, 2016
Indonesia Convention Exhibition (ICE) BSD City, Tangerang.
GIIAS Surabaya
September 28-October 2, 2016
Grand City Surabaya.