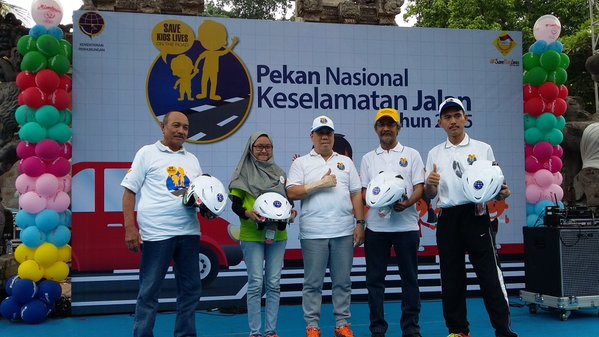 JAKARTA— Children's safety in road traffic became a highlight for Indonesia Government, in this case the Ministry of Transport. The Ministry expressed the concern about children's safety in road traffic came into public during the peak ceremony of National Week of Road Traffic at Indonesia Miniature Park in Jakarta, December 2015. In the event, the Ministry declared its mission to increase public's awareness and care on road traffic safety for children.
Secretary General for the Transport Ministry, Mr Sugihardjo, exclaimed that it is necessary for all stakeholders to show care for road traffic safety for children. The notion was transferred to become the theme of the Ministry's campaign— reading "Save Kids' Lives". The theme came along with UN and WHO's campaigns in international level.
"Children are prone to road traffic accidents. Latest data of WHO indicates that more than 186,000 children around the world died in road traffic accidents. Casualties among children in developing countries even three times worse," he cited.
Data in Indonesia Police Department shows that in 2014 more than 28,000 persons died in traffic accidents. Of all incidents, 15 percent involved children's lives.
The National Week of Road Traffic Safety 2015 included several activities. There were Road Safety Camp in Balikpapan (East Kalimantan), Makassar (South Sulawesi), Lembang (West Java), and Padang Pariaman (West Sumatra). School children of junior high schools took part in the programmes on Saturday and Sunday. They played games outdoors and learnt about traffic safety. In Jakarta, the moment was carried out through campaigns on road traffic safety in public areas and at schools.
The Ministry has annually conducted National Week of Public Road Safety since 2007. In 2013 Indonesia Government launched a law (Presidential Instruction Number 4) on the "Decade of Road Traffic Safety Action" to provide legal foundation for programmes of road traffic safety campaigns in the country. (*)