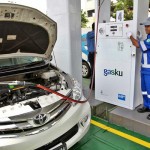 JAKARTA— State gas provider Pertamina recently opened two gas refueling stations for cars. The two new stations are located in Jakarta surrondings, embedded in the already existing petrol stations.
"The gas refueling facilities are integrated with existing gas stations, so that people can easily get it," said Vice President of Corporate Communication of Pertamina Mr Adiatma Sardjito.
Both gas refueling stations were installed by simply adding dispenser. Pertamina opened the two gas stations as a response to the Minister of Energy and Mineral Resources' Regulation Number 25 of 2017 on the Acceleration of Gas Fuel Utilization for Land Transportation.
With the two new gas refueling stations, Pertamina now has five of them. Three other stations were also located in Jakarta and its surroundings. The government targets that by 2019 there will be 150 gas stations serving gas fuel.
"The new gas stations each has a capacity of 0.3 million cubic feet per day (MMSCFD) or 10 liters of premium equivalent (LSP). We hope to serve the needs of CNG for city transportation," Mr Sardjito said.
In the near future Pertamina will add two other units of gas refueling stations in Jakarta Capital by 2017. This is related to the Ministry of Energy and Mineral Resources' request to Pertamina in 2017 to distribute 3,000 converter kits for public cars and that of state offices. Converter kits are an additional component for cars that switch from using petro to gas fuel. (*)