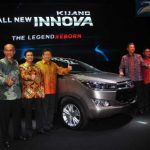 JAKARTA — The production of the legendary brand of Toyota Kijang family managed to exceed two million units since its launch in 1977 until the first half of 2018. Director of Administration, Corporate and External Relations of PT Toyota Motor Manufacturing Indonesia (TMMIN) Bob Azam in Jakarta on Monday said the 2 millionth production was manufactured in Karawang 1 plant. It bears white pearl type Kijang Innova V automatic transmission (A / T). "Toyota Kijang Innova V is for export purposes to Saudi Arabia," he said.
He explained that so far the Toyota Kijang which has entered the 6th generation has long been the mainstay of TMMIN. The medium-sized multipurpose car (MPV) production grabs 57 percent of TMMIN's total production which has now reached more than 3.5 million units. "The 2 million Toyota Kijang production cannot be achieved without strong synergy from upstream to downstream. This starts from component suppliers to the dealer network," Bob said as quoted by Antara National News Agency (LKBN).
He also talked about the history of the production of legendary vehicles that were designed to build up in accordance with the tastes of the Indonesian market. The birth of Toyota Kijang was inseparable from government policy in the development of a multi-purpose transportation industry in the mid-1970s that Toyota responded to by making basic utility vehicles (BUVs). "At that time the first generation Toyota Kijang was born and launched in June 1977," he said.
But along with the development of Indonesia's economy, Toyota Kijang continues to be developed from just a basic vehicle for logistic transport to a comfortable 7-seater passenger vehicle. The second generation Toyota Kijang made in 1981 marked the change of the car from commercial vehicles to passenger cars with the concept of multi-purpose vehicle (MPV). "Since then, Toyota Kijang is no longer known as a freight vehicle," Bob said.
A large contribution was also shown by Toyota in the development of the national automotive industry through an increase in the domestic content of the Toyota Kijang which was getting higher from 19 percent to 85 percent. It began with 19 percent in the first generation Kijang, the domestic contens of Kijang climbed to 30 percent in the second generation. The seriousness to increase local content continues to be shown by the addition of the local content ratio to 40 percent in the third-generation Kijang Super 1986 Kijang.
"The increase in the Toyota Kijang local contents is also due to the support of local suppliers which initially only numbered eight companies in 1977, now 139 companies," Bob said.
Now Toyota Kijang bears the name Innova has become Toyota's global MPV product with a production base in Indonesia, both for domestic and export markets. "Toyota Kijang is the opening for other models of Toyota cars to be produced locally in Indonesia," he said. (*)