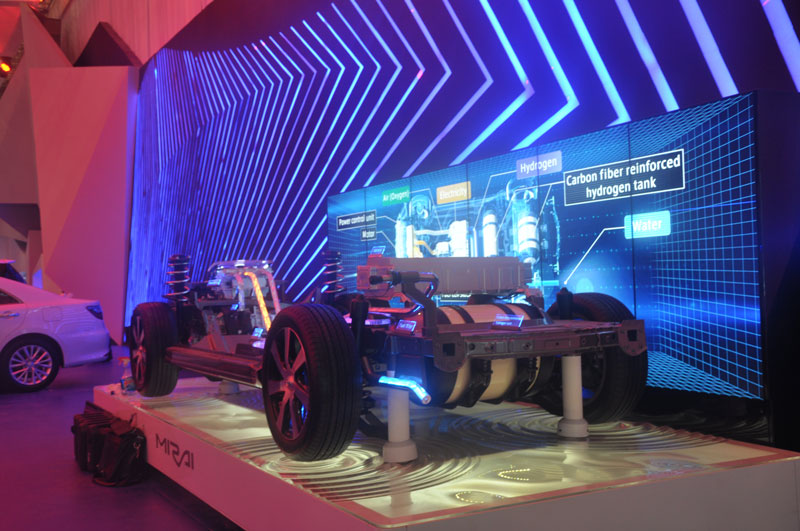 JAKARTA— GAIKINDO's effort in rolling off an automobile exhibition as a window to showcase new technology for public comes true. Some new models with advanced technology are displayed in
GAIKINDO Indonesia International Auto Show
(GIIAS) 2015. The biggest auto show in Southeast Asia is taking place at Indonesia Convention Exhibition (ICE) Bumi Serpong Damai (BSD) City from 20 through 30 August 2015.
One of carmakers that displays new technology is Toyota with its Mirai ("future") model. Mirai, a mid-size sedan, no longer uses gasoline nor hybrid engine. But instead, it relies on an electric motor powered by fuel cell (hydrogen).
The Toyota Mirai is one of the first hydrogen fuel-cell vehicles to be sold commercially. It was unveiled at the November 2014 Los Angeles Auto Show. Toyota is reported to have a plan to build 700 vehicles for global sales during 2015.
Subsidised by Government of Japan
Mirai sales in Japan began on 15 December 2014 at a price of ¥6.7 million (US$57,400). The Japanese government plans to support the commercialisation of fuel-cell vehicles with a subsidy of ¥2 million (US$19,600). Retail sales in the US began in August 2015 at a price of US$57,500 before any government incentives.
The market release in Europe is slated for September 2015, and initially will be available only in the UK, Germany and Denmark, followed by other countries in 2017.
Toyota Mirai's Specification:
· Model name: Toyota Mirai
· Manufacturer: Toyota
· Production: 2015
· Plant: Toyota, Aichi (Motomachi plant)
· Dimension: Mid-size
· Body style: Fou-door sedan
· Layout : Front-engine, front-wheel-drive
· DNA: Mobil konsep Toyota FCV
· Engine: Electric motor, fuel cell-powered 113 kW (152 hp) 335 N·m (247 lbf·ft)
· Battery: 1.6 kWh Nickel-metal hydride
· Range: 502 kilometers (312 miles)
· Wheelbase: 2,780 milimeters (109.4 inches)
· Length: 4,890 milimeters (192,5 inches)
· Width: 1,815 milimeters (71.5 inches)
· Height: 1,535 milimeters (60.4 inches)
· Curb weight: 1,850 kilograms.