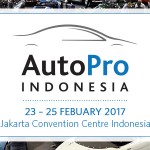 JAKARTA— AutoPro Indonesia is about to open today 23 February through 25 February 2017. The exhibition of automotive components, modification and tuning is taking place in Hall A-B, Jakarta Convention Center (JCC).
Organised by Nine Events and Tarsus Group Plc, the exhibition showcases some of the elements in the automotive industry sector. They include a sole agent (APM), industrial accessories, industrial components, products and after-sale services, and modification workshops.
President Director of Nine Events Ms Lia Indriasari said the development of the automotive industry in Indonesia in 2017 provides a positive impetus to the development of aftermarket part segment and modification.
"AutoPro Indonesia has become a barometer of the exhibition of business to business (B2B) sector of automotive aftermarket parts, modification and tuning like SEMA Show in the United States (US)," she said.
AutoPro Indonesia provides an opportunity for the automotive aftermarket industry in Indonesia to develop its business. They can meet and interact directly with the players in the same industry, not only domestically, but also from foreign countries.
As a B2B exhibition, AutoPro Indonesia is open for buyers with pre-registration. Registration on the spot is open throughout the exhibition.
More than 50 global brands takes part inthe AutoPro exhibition. They include Pioneer, V-KOOL, APFORCE, Napa Prime, Mustang, Chronos, Venom, JF Luxury, GT Radial, Accelera, Forceum, Zeetex, Wincos, Alcantara, Autovision, Alpine, LLumar, Ziebart, Rota, Protera, Ceramic Pro , LM & T Modification, Teckwrap, BRQ, Dietrich, World Variations, Karuna, Nosk Indonesia, Vugera, Qmax, Dension, RevV, IGL Coating, Evalube, STP, Turtle Wax, Penray, STP, Armor All, Comfort Carpet, SONAX, CTEK, Flex, Brixton, Nakamichi DVR, Broquet, Proxima, C3, AP Racing, Holley, Supertech, ARP, Energy Suspension, CP Carillo, Cometic, Weber, ACL, MSD, Tomei, Garrett, Skunk2, Spoon, Edelbrock, Ogura Clutch, Autometer , Fuel Injector Clinic, Sage, Daito, J-Wash, Disperindag Java, Focal & Dominations, Nissan, Datsun, Toyota, Kia, and Hyundai. (*)