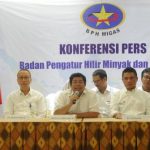 JAKARTA— The Downstream Oil and Gas Regulatory Agency (BPH Migas), PT Telkom, and PT Pertamina (Persero) agreed on the implementation of a digitisation policy for each nozzle in the 5,518 out of a total of 7,415 Pertamina's gas stations. The step is to control subsidised fuel and special fuel assignment (Premium fuel) to be more targeted.
This was confirmed at the coordination meeting of BPH Migas, PT Pertamina, and PT Telkom which was held at BPH Migas Building on Wednesday, 12 August 2018. Digitilasing the nozzle at Pertamina's gas stations will make it easier for BPH Migas to monitor and record all volumes of the Public Service Obligation (PSO) fuel and Non PSO distributed through gas stations. PT Pertamina will implement and ensure that this digitisation system is built by the end of 2018.
Head of BPH Migas M Fanshurullah Asa said that he was very optimistic that the target would be achieved by the leadership transformation and work culture led by PT Pertamina. BPH Migas is committed to helping accelerate calibration of flowmeter and storage tanks by coordinating with the Ministry of Trade's Metrology Directorate.
PT Telkom's Enterprise and Business Director Dian Rachmawan said, to implement a digital system for fuel distribution, PT Telkom Indonesia would place a sensor for calculating the distribution of fuel from the reservoir tank located at the gas stations, until the fuel delivery faucet from dispenser to the vehicles (nozzle).
"We will install all sensors from the storage tank, fill them up to the nozzle," said Dian, at the Office of the Regulatory Agency for Oil and Gas Downstream Activities (BPH Migas), Jakarta, as quoted by Merdeka on Thursday, August 13, 2018.
To support the implementation of digital systems for fuel distribution, Telkom will build applications and internet networks, which can accommodate and distribute data. "We also prepare application platforms for all devices. Then, our network is pretty confident, because this sensor can be run with a 3G network. If the 4G network doesn't exist, it doesn't matter," he said.
Pertamina's Corporate ICT Senior Vice President Jeffrey Tjahja Indra continued, data on the distribution of fuel from the storage tank to the one released to the vehicle's tank would be digitally recorded, then the fuel distribution data made by each gas station was transferred to the data center to be reported to BPH Migas as the regulator who handles fuel distribution. "This digitalization is in principle we are converting from the number of liters, which is channeled into electronic format. This format is sent to one data center, from all these gas stations are converted," he said.
From the distribution data from Pertamina with those distributed to the public, it will be matched, if there is a discrepancy, the difference will be borne by the company. "We see the volume from the nozzle. The difference must be accounted for. So the difference is visible," he said. (*)