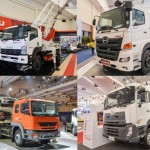 JAKARTA—The market of commercial vehicle in Indonesia sees an upward trend. Increased economic activity and the development of road infrastructure become the main drivers of the increasing need for transportation equipment. In almost all the big islands outside Java— such as Sumatra, Kalimantan, Sulawesi, and Papua— the current government is intensively building roads, both highways and toll roads.
Chairman of the Association of Indonesia Automotive Industries (GAIKINDO) Mr Johannes Nangoi says he is optimistic that the increasing economic activity almost evenly distributed across the island in Indonesia will contribute to the commercial car market volume. "This year it's time for commercial car sales to find momentum to move up," said Mr Nangoi.
Commercial vehicles primarily have function as freight cars and public transport people in a mass (opposite to passenger cars). This includes pickup, double cabin, bus, and truck. Of all types of commercial cars, buses and double cabins see the promisingly-upward market trend in Indonesia throughout 2016. Double cabin opened its sales figures of only 298 units in January 2016, and closed it at 935 units in December 2016 sales. Bus category began with 139 units of sales in January 2016 and jumped to 404 units in December 2016.
In ASEAN, Thailand ranks top for commercial car sales. Data on the ASEAN Automotive Federation (AAF) shows that in 2016 the commercial car market in Indonesia amounted to 200,406 units. This figure represents 18 percent of the total ASEAN commercial car market (1,063,226 units). In Thailand, the commercial car market reached 440,735 units, accounting for 41 percent of the total ASEAN car market.
In Indonesia, there are quite a few brands that play in the segment of large and small commercial cars. They include Mitsubishi (Fuso), Isuzu, Hino, Nissan, Nissan Diesel (UD Trucks), Toyota, Suzuki, Daihatsu, Tata, Mercedes-Benz, MAN, Scania, Kia, Hyundai, and FAW. (*)