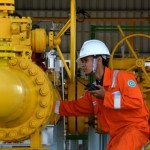 JAKARTA— Indonesian Government agreed to open up imports of gas for industry. The government has tried several efforts to cut the price of gas down to USD 6 per MMBTU for seven industries. Government's desire to lower the price of gas for industry has been taken by the government since last year.
Some strategies to lower gas prices were agreed within a closed meeting in President's office last week. This new policy allows industries to import gas by themselves.
Cabinet Secetary Mr Pramono Anung noted until now only three industries that have enjoyed a price below the government's reference price. They are fertilizers, petrochemicals, and steel.
"It gives free choices to industries to be able to import gas directly at the expectedly-lower prices," said Mr Pramono.
The government promised to be careful in issuing licenses to import gas. The government only allows import for industries that really require lower gas prices from abroad to keep production costs low. Imports should also carried out directly by the respective industries rather than through intermediaries.
Some gas producers that have made include those from Saudi Arabia, Iran, Qatar. (*)