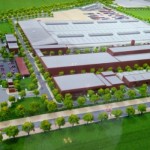 JAKARTA— PT SAIC General Motor Wuling (SGMW) has just completed construction of its car plant in Indonesia. With the completion of the construction of the plangt in West Java, the Chinese-US joint venture automaker is soon using it to produce cars. Wuling estimates that their inaugural production will begin to enter Indonesia's car market in the third quarter of 2017.
Wuling Motors' Senior Manufacturing Director Mr Arif Pramadana said the new plant is equipped with a global technology manufacturing system (GMS). This is to ensure the factory meets international standards. This system allows Wuling to achieve efficient and quality production process.
To support its manufacturing activities in Indonesia, Wuling relies on 15 internationally-renowned component suppliers and around 20 local component suppliers. The construction of Wuling's plant in Indonesia involves an investment of some USD 700 million. This plant will create a chain of upstream and downstream industries, and 3,000 jobs for local communities.
"This factory shows our seriousness to enter the Indonesian market, and is an important achievement for Wuling in Indonesia," said Mr Arif.
In the initial stage, Wuling targets the market segment of small passenger cars (low mMPV). In the Indonesian car market, this segment has dominated the largest market. Some low MPV models include Honda Mobilio, Chevrolet Spin, Daihatsu Xenia, Mazda VX-1, Nissan Livina, Suzuki Ertiga, Toyota Avanza.
"People nowadays need a car to transport the family, that's why we focus on presenting low MPV products," said Brand Manager of  Wuling Motors Ms Dian Asmahani. (*)