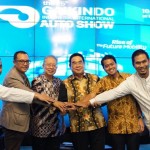 JAKARTA— The world-class car exhibition GAIKINDO Indonesia International Auto Show (GIIAS) 2017 again receives the main sponsorship from Bank Mandiri and Pertamina (fuel and lubricant provider). For the two state-owned enterprises, this is the third consecutive time they become the main sponsor of GIIAS since it occupies a new international class venue in Indonesia Convention Exhibition (ICE) BSD City from 2015. This year GIIAS 2017 will take place from 10 to 20 August.
In carrying out its role as the main sponsors, Bank Mandiri provides financing facilities to onlookers who want to purchase cars and motorcycles in the GIIAS 2017 arena. Bank Mandiri mobilises its two subsidiaries in financing, namely Mandiri Tunas Finance (MTF) and Mandiri Utama Finance (MUF).
"This signifies our active role in supporting the development of the national automotive industry as well as assisting the government in driving the national economy," said Assistant Vice President of Consumer Loans Group of Bank Mandiri, Mr Jiwo Sukarno.
Meanwhile, Pertamina plans to launch its newest product, Dexlite. Pertamina claims, Dexlite is the result of environmentally-friendly diesel fuel innovation. Pertamina has been testing this product into the market since 26 April 2016. According to Pertamina, Dexlite is one of the leading diesel fuel-efficient power product, responding to the latest needs of fuel for vehicles.
Head of Marketing Communication of Pertamina Mr Dendi T Danianto says Pertamina will also present various promotions for its superior products such as Pertamax Turbo, Pertamina Dex, Pertamina GO, Bright Gas, My Pertamina Merchandising Store and lubricants from PT Pertamina Lubricant. Pertamina will also launch a new programme intended for consumers who have been faithfully using products from Pertamina, through an application "My Pertamina Loyalty Programme" that can be downloaded through the Play Store. (*)