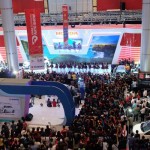 JAKARTA— The biggest car exhibition in Indonesia and Southeast Asia (GAIKINDO Indonesia International Motor Show, GIIAS) 2017 is about to showcase to several major cities in Indonesia. They are, among others, Makassar (South Sulawesi), Jakarta, Surabaya (East Java), Samarinda (East Kalimantan) and Medan (North Sumatra).
Samarinda and Medan this moment are listed into the calendar GIIAS. Before that GIIAS still rely on its exhibition activities in Jakarta, Makassar and Surabaya alone. The GIIAS 2017 circuit this time brings theme "Rise of the Future Mobility".
"GAIKINDO is committed to contributing to the development of Indonesia's automotive industry. One step we take is to continue to ensure that the number of major cities with a high potential for the automotive market can have easy access to their automotive needs," said GAIKINDO Chairman Mr Yohannes Nangoi.
With Samarinda and Medan in the list of the GIIAS 2017 calendar, GAIKINDO has a special mission in this. It embodies GAIKINDO's intention to build and raise Indonesia's automotive industry into the future. It is a good signal for the industry in the capital as well as industry players in other big cities.
"The presence of GIIAS in those areas opens an excellent opportunity for exhibitors to introduce their products to the local market as well as building relationships with industry and government as a business partner in the region," said Mr Rizwan Alamsjah, Chairman of the GIIAS 2017 Organising Committee.
The GIIAS 2017 will start from Makassar (10-14 May), Jakarta (10-20 August), Surabaya (20-24 September), Samarinda (25-29), and Medan (22-26 November). (*)