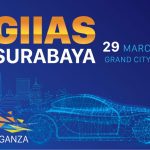 SURABAYA— The 2019 GAIKINDO Indonesia International Auto Show (GIIAS) is about to begin in Surabaya (East Java) on Friday 29 March 2019 until Sunday 7 April 2019. The GIIAS 2019 exhibition which taks place at Grand City Mall Surabaya will become the venue for carmakers and distributors to showcase the latest technology.
At least 13 brands of global cars are taking part in the GIIAS 2019 in Surabaya this season. Passenger cars are presenting Daihatsu (Japan), DFSK (China), Honda (Japan), Hyundai (Korea), Isuzu (Japan), Lexus (Japan), Mitsubishi Motors (Japan), Nissan (Japan), Suzuki (Japan), Toyota (Japan), and Wuling China). Meanwhile, commercial vehicles (good transporters) persent Isuzu (Japan) and Mitsubishi Fuso (Japan). Moreover, four motorcycle brands will come from Honda (Japan), Suzuki (Japan), Yamaha (Japan), and Viar (China). And dozens of brands from supporting industries are ensuring their support. Almost all brands ensure that they will present the latest products at GIIAS Surabaya 2019.
"The GIIAS series in Surabaya is expected to be an arena for carmakers to present the latest technology and products at the beginning of 2019," said Chairman III of the Association of Indonesian Automotive Industries (GAIKINDO) Rizwan Alamsjah in his press statement in Surabaya, Monday, 25 March 2019.
He is optimistic that this year's GIIAS will be an awaited and anticipated event for automotive activists in East Java and its surroundings. Rizwan said that Surabaya and East Java have great potential in the development of the automotive industry, so GAIKINDO decide to pick Surabaya as the venue for the first GIIAS 2019 series. "The city has a very immense magnitude. Surabaya has enormous potential to host the exhibition, and sales of automotive vehicles in Indonesia , "Rizwan said.
GIIAS in Surabaya became a strategic outlet for exhibitors to introduce the technology and perhaps also launch new products. "GIIAS Surabaya 2019 also presents a variety of programs and attractive offers, both from APM participants and from supporting industries," he said.
GIIAS Surabaya 2019 with its Autovaganza will come with a variety of programs and attractive from either the exhibitors and from the supporting industries. Various programs will also enliven GIIAS Surabaya, in addition to annual programs such as test drives, test rides, community gatherings, and auto contest. The most interesting are of course two new programs: workshop session at "GIIAS Autopreneur" which presents several automotive influencers and automotive experts from Surabaya to provide knowledge about the automotive industry that is currently developing.
In addition, there is also a free fuel oil voucher program. Fuel vouchers worth IDR 25 thousand are available for entry ticket purchases on weekdays, and weekends. On national holidays visitors have the opportunity to get fuel vouchers worth up to IDR 100 thousand by showing exhibition entrance tickets, and vehicle booking papers. This program is valid during the exhibition, terms and conditions apply, as long as supplies last.
GIIAS 2019 will begin in Surabaya on 29 March – 7 April 2019, then Jakarta 18-28 July 2019 at ICE BSD City (Banten), Makassar (South Sulawesi) 4 – 8 September 2019 at Celebes Convention Center, and closed at Medan (North Sumatra) 23-27 October 2019 at Santika Convention Center. (*)