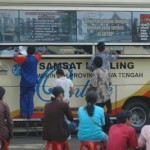 JAKARTA— Ministry of Industry proposes the implementation of an emission-based tax for motor vehicles. The measure is meant to achieve emission reduction target by 29 per cent in 2030.
The new tax system will likely change car taxation mechanism. So far, car taxation has been calculated for car's engine, the model, as well as the car purpose.
Carbon tax will be arranged within low carbon emission vehicle program (LCEV). This is a continuation of the government's policy on the production of energy-efficient vehicles and at reasonable prices or a (low cost green car, LCGC).
According to the Director General of Metal, Machinery, Transportation Equipment, and Electronic Industry Ministry Mr I Gusti Putu Suryawirawan, carbon tax aimed at encouraging the production of environmentally friendly cars. There are three types of vehicles that will be promoted through the breakthrough— electric cars, hybrid cars, and gas-fueled cars.
The government perceives the implementation of carbon tax as a way of enhancing the competitiveness of domestic automotive industry. In a commitment to reduce emissions by 29 percent, the government requires the automotive industry to play an active role. In the matter of manufacturing, many automobile factories in the country currently have been implementing the principle of low emissions. The problem is that automotive products still account for the emissions.
The Ministry of Industry will calculate the level of emission reduction for the motor vehicle sector. The LCEV is regarded to be the right step to fully realize the target. (*)