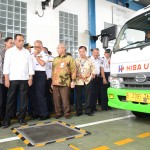 JAKARTA— Feasibility test of commercial cars no longer exclusively has to be conducted by state-owned office (Ministry of Transportation). Buses and trucks can now apply for a regular check in privately-run workshops. Minister of transportation Mr Budi Karya Sumadi was reported to have just officiated a private facility owned by PT Hibaindo Armada Motor by mid February 2017.
PT Hibaindo Armada Motor is located at Jl Raya Bekasi, Cakung (West Java). By law, the periodic vehicle test can indeed be carried out by agents (APM) and private parties. This is in accordance with the mandate of Law No. 22 of 2009 on traffic and road transport.
"In the past, periodic vehicle test was only allowed to be done by the government, but now it has changed as mandated by law. In addition, private sector's involvement in transport development is also in harmony with Goals and Indicators of Medium Term Development Plan 2015-2019," he said.
PT Hibaindo Armada Motor obtains government permission to carry out the periodic vehicle test project because they were considered to be ready and to have had complete test facilities. So far, the vehicle test by private workshops is still in a trial phase. The Minister hope that the three-month takes place in accordance with the provisions and professional manner. He wants this stage to be continued to encourage public service improvement.
The government encourages private sector under the auspices of GAIKINDO to take part in developing and realising the implementation periodic vehicle test by private sector in several regions in Indonesia.
"To the Director General of Land Transportation, I also want to instruct to immediately resolve the legality of the periodic test by private parties and continue to provide guidance and supervision of the implementation of regular testing," the Minister said. (*)