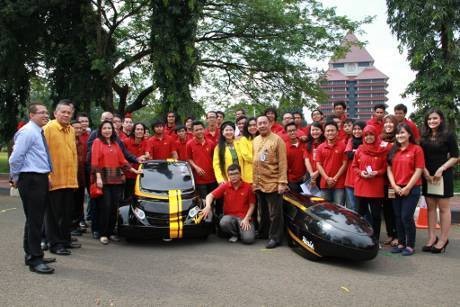 Faculty of Economics and Business of Indonesia University in Jakarta conducted a focus group discussion (FGD) social-culture aspects of the national electric car (Mobil Listrik Nasional, "Molina"), Tuesday 8 September 2015. The FGD involved several stakeholders. They were users of public and private transports, the Government, industry, professionals, and scholars.
In conducting the FGD, the Faculty of Economics and Business found support from Education Fund Management Organisation of Ministry of Finance. "Molina" is a project that receives the same support, developed by a consortium of five universities– Indonesia University (UI) Jakarta, Bandung Institute of Technology (ITB), Gadjah Mada University (UGM) Yogyakarta, Sebelas Maret University (UNS) Surakarta, and 10 November Institute of Technology (ITS) Surabaya. In particular, UI encourages the project by involving multi-dicipline studies. This effort involves some faculties, such as Engineering, Cultural Sciences, Economics and Business, and Law.
In the FGD, the Government represented resources from the Ministry of Trade, Ministry of Industry, and Ministry of Transport. Consumers were represented by community of Toyota Avanza users. Industry presented resources from PT Krama Yudha Tiga Berlian Motors (Mitsubishi), PT Hyundai Indonesia Motor, and the Association of Indonesia Automotive Industry (GAIKINDO).
The FGD was meant to measure public acceptance towards national electric car. Each resource delivered inputs and advice to the UI team that are involved in developing the electric car's prototype. The discussion mostly talked about legal aspects (safeguards), cultural aspects (popular habits), economy (incentives and technology independency), strategic aspects (international cooperation within WTO agreements).